The last time I posted a "Weekly Small Pleasures" I was about 38 weeks pregnant. Today my baby girl is 3 weeks and 2 days. It has been a rollercoaster in the last few weeks but I'm ready to include some of the small pleasures as of late. This week I finally started to get a little bit more time and a bit more rest as my baby girl is kinda starting to get into a schedule.
This week was also the first time in 3 weeks that I put on decent clothes and went out by myself. I've been living in pajamas and sweats/comfy clothes at home. I did go out twice to the pediatrician but it's only 5 minutes away and I wore sweats.
1. Going outside
As mentioned, this week was the first time in a while I went anywhere and it felt good. Even though I didn't necessarily go somewhere fun, (chiropractor) it was still a good feeling to drive 20 minutes and back and enjoy the sunshine. Hubby stayed home with the baby, so I was able to blast the radio and sing like "old" times haha (pre-baby).
2. Baby smiles
This is so far my favourite thing about having a newborn. Every time she smiles I cannot help but smile back. I haven't been able to catch it in pictures, though!
3. Flowers, fruit, and desserts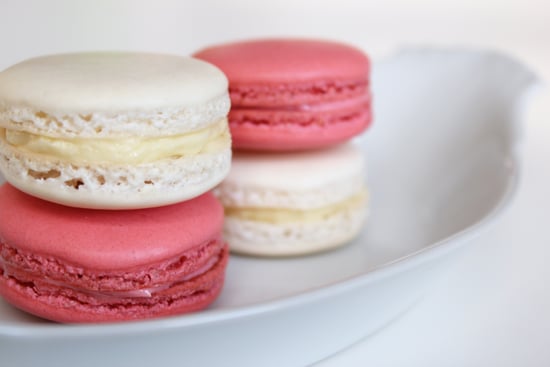 Hubby went out Friday night just to get some dessert and came back with three bouquets of flowers, tons of fresh berries and watermelon, three macarons, three mini cheesecakes, and two cupcakes. Everything a different flavour so that I would just take my pick. I ended up just "sampling" everything. It was fun, and yummy. Oh, he also got me a bottle of delicious hard cider, which I took two sips from because I am breastfeeding too often to begin introducing alcohol. But it was still a nice treat. I love hard cider. And flowers, and fresh fruit, and dessert. 🙂
4. Mom's homemade dinners
Even though my mom went back to Mexico City over a week ago, this week we enjoyed delicious chicken soup and lasagna that she made and froze before she left. It definitely took me back to my home where I grew up. They were lifesaving as I still haven't had time to start cooking dinners.
5. This Is Us
There's this NBC series that I've been wanting to watch for a while called "This Is Us". We finally started watching it last weekend, and have been watching an episode here and there in the evenings when I'm not too tired to go pass out at 7:30 pm. I'm really enjoying it.
6. Football Season
It began! Although I haven't been able to watch any games except for recaps :(, I'm excited. I think my team is going to do great this season, and for the first time I live in its home state. That should be fun. I'm looking forward to finding the time time to watch more games.
See what others were happy about:
Weekly Small Pleasures #34 – Work hard, play hard – Middle Europe
This week's small pleasures #66 – Thistles and Kiwis
This week's small pleasures #65 – Thistles and Kiwis
---
Weekly Small Pleasures Blog Event
Share your happiness!
I find that the small things that make us happy every day are easily forgotten.
This blog event is simply about remembering and sharing those small things that made you happy during the week; things that made you smile, made you laugh, made you do a happy dance, made your heart smile…
You can share in any format you like. For people to find your post, tag your post "Weekly Small Pleasures" and link to my most recent post for a pingback! You can also just share in the comments.
Read the full details, and see previous posts.
P.S. You can also find me on INSTAGRAM, FACEBOOK, TUMBLR, and PINTEREST.