I believe I figured out the formula for wearing shoes in India (and traveling around). At least this formula works perfectly for me.
For traveling TO your destination (and for ultimate comfort, long walks and even hiking)
Merrell is the way to go. Merrells are on the pricey side, but they are totally worth it. I got mine at REI for $60 (I believe on sale) before coming to India. Hubby had bought some Merrells a couple months before and had fallen in love with them (my words, not his), he wore them every day. I wore mine for traveling the long way from the US to India. They gave me comfort at the airports, while flying, and once on the ground in India.
The slip on function is perfect and essential for traveling through all the security checkpoints. Women's Merrells come with a signature Q Form Comfort system designed for the woman's stride. A fancy system, which is perfect for those runs to your boarding gate (which happens to be the furthest one every time). I don't wear mine daily in India because my body's temperature rises rapidly if I wear socks in hot weather. But hubby, on the other hand, wears his every single day. These are perfect also for long walks, as well as for hiking.
Budget Friendly Slip On Shoe 
These Keds have been wonderful to me. I have used them for airport travel from the US to Mexico in the last couple of years. They are perfect for easy on and off at security and have taken me through long walks and runs across the airport. I've worn them with and without socks and they are very comfortable.
For [Waterproof] Daily Use
Crocs.
Before you skip through this one, hear me out. I was on the same bandwagon: Crocs are super ugly. But they have definitely expanded and improved their designs. I wanted a waterproof shoe for India because we were arriving during monsoon season, and given the roads of India, mud puddles everywhere are not a surprise. My mind thought of crocs because I can't think of another waterproof shoe that is not a boot or a flip-flop.
In a Mumbai mall, I found a Crocs store and a design that I would be okay with wearing; the Malindi Crocs
. I went with purple because the black ones looked cheaper to me for some reason, and a little color never hurt anyone. Days later, I was extremely happy with my purchase. You know how people who wear crocs, swear by them? Well, I see why. They are absolutely comfortable, and like I wanted, completely waterproof and super easily cleaned. These are the shoes I wear every day outdoors here in India. They serve the exact purposes I needed and would buy again.
A Good Flip Flop
Rainbow Leather Sandals
. This brand does a good job with quality. I guess they are also on the pricey side for a flip flop ($49 dollars), but they will last you a long time. I bought the Single Layer Classic Leather with Narrow Strap
, pictured above. They also have them with a thicker strap, which I think would give more comfort and security, but I went with the narrow strap because in my life as an artist, I usually favor aesthetics over function (unlike my husband who is the complete opposite).
I love that they are leather and they offer arch support. I have to warn you that the first two days I wore them I was disappointed because they were not as comfortable as people said, and the strap actually hurt my foot. BUT a few days later, I was happily using them more and more. Zero pain and very comfortable. They need a little break in as they mold to your feet.
For when you feel like looking prettier or more dressed up
I found these INC International Concepts Sandals by chance at Macy's. They stood out to me right away and they were very comfortable at first try. I bought them some time ago and have worn them quite a bit, especially during the summer and still some more in India. They are seriously comfortable, and apparently durable. I am picky with soles because I get back aches very easily. I have suffered with neck and back problems since I can remember, and these sandals pleasantly surprised me, at a great price too. I would like to try more designs of this not well-known brand.
I found these same ones in pink, turquoise, and black
 on Amazon.
To Be Comfortable And Look Cute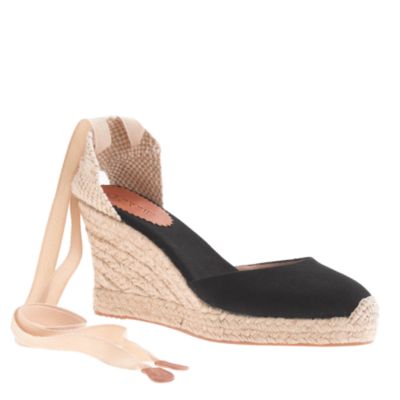 Wedge Espadrilles. These I recommend more for other places where they like to be fashionable like Italy and Mexico City.
I love espadrilles. I owned a few pairs (4 of them to be honest) in the US which I donated before coming to India, keeping only one pair. I knew I wouldn't find the occasion to wear them here in India, but I would when I travelled, (as I plan to do), especially for a dinner night out. Spain, Greece, France, Italy, and Mexico all sound to me like good places to wear these guys. Any tropical place would work too. They were my go-to high heel during spring and summer in the US. With my Mexican/Spanish roots, I feel they suit me well. They just so happen to be cute and comfortable at the same time. You can find a few different styles here
.
Disclosure of Material Connection: Some of the links in the post above are "affiliate links." Regardless, I only recommend products I use personally and believe will add value to my readers. All opinions are mine.