Last year I shared with you my 20 new year's resolutions. I don't think I did very well by keeping them, like usual.
But here are 21 more of them for this year anyway:
1.  Stop bragging about my crossfit workouts because nobody really cares.
2. Stop being so snobby about films just because I studied filmmaking, or at least keep it to myself.
3. Stop hoarding the sheets in bed. Although I'm really just pulling them back.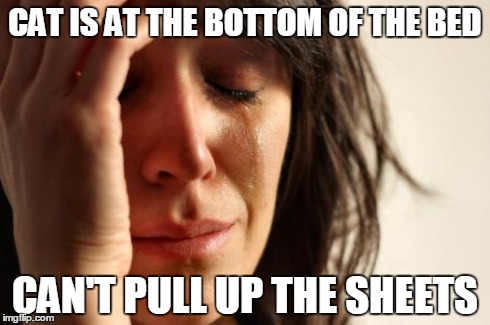 4. Stop complaining about my backs/hip pains like I'm 80 years old.
5. Stop shedding my hair all over the house like I'm a cat.
6. Stop letting our cat believe like he's the master of the house.
7. Stop preferring computers, plants and cats over people because they don't judge.
8. Stop pretending like I didn't cry during the movie because why should that be embarrassing?
9. Keep being so cool.
10. Stop sending chat texts to my husband sitting next to me.
11. Improve my heart health by drinking wine before bed more often.
12. Stop using other people's prescriptions drugs or auto medicating myself, especially in a foreign country.
13. I will try to slow down instead of speed up when the light turns yellow.
14. I will stop lying about what time I usually wake up.
15. Don't give people any false hopes. Like say I might meet up with them later.
16. Avoid taking a shower whenever possible to conserve more water. Ok, I already do that pretty well.
17. Stop wishing I was taller or looked older.
18. I resolve to stop lying to myself about not being photogenic because in reality I look good in all the pictures.
19. Stop accidentally liking the most expensive thing on the store.
20. Learn what the hell "resolution" means because it probably doesn't mean "things you would like to do or should do but won't even try to do them and don't even care."
21. Sleep better and finally get me a new mattress!
I promise to stick to these resolutions for more than a week (even though I never do).
May all your troubles last as long as your New Year's resolutions. Happy 2016!